What are the advantages of our General Purpose Freeze Dryer?
  The General Purpose Freeze Dryer is available in 25 and 35 Liter configurations. Condenser refrigeration packages of -53, -70 or -85C allow you to configure the most economical system for your products The GPFD is available in 2 to 5 shelf configurations with optional programmable heat.
  The GPFD is ideal for bulky product, such as floral arrangements and taxidermy specimens where low energy input is required and long freeze drying cycles are common.
  Our Range of Freeze Drying Products
  Cuddon Freeze Dry manufactures a range of freeze drying machines from pilot models to large capacity industrial freeze drying machines.
  From 5.5kg to 1500kg ice condenser capacity, our freeze drying machines are used for a range of applications from small pilot research plants to large commercial multi-dryer industrial operations.
  Quality and Compliance
  To ensure that every activity the company undertakes is completed to the highest possible standards, Song yuan has been operating under ISO 9001 certification since 2000. We also have a strict Health & Safety policy ensuring that our employees are kept safe while delivering quality workmanship.
  Range of Applications
  Flowers: Freeze dried flowers have become an exciting industry. Our general purpose freeze dryers were designed not only to preserve the shape, color and fragrance of botanicals, but to dry them faster than our competitors while maintaining your high quality standards. Each load of rose heads or long stem roses requires a lot of pre- and post-drying labor, so why compromise your quality in the freeze drying process
  Taxidermy: General purpose freeze dryers are flexible enough to freeze dry large and small animals in the entirety, with extremely lifelike results.
  Water Damaged Documents: General purpose freeze dryers dry and preserve water-soaked papers and books that would otherwise be unsalvageable.
  Biological Specimens: Organs and other biological specimens can be preserved for study, without the drawback of heavy chemical preservative smells.
  Irregular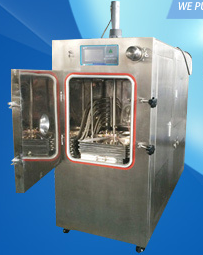 General Purpose Freeze Dryers Features and Options
  Process Matching: We design our general purpose freeze dryers to meet your exact processing requirements, to help you achieve more productivity and higher product quality levels than ever before.
  Reliability: We make every freeze dryer reliable enough to give you years of trouble-free performance, and back it with a warranty and support program that guarantees the protection of your investment.
  Durability: Cycles typically utilized in a general purpose freeze dryer often extend beyond the 24-hour mark, so reliable designs, coupled with carefully selected components, are one of our most important considerations. We also construct every unit to allow for easy routine maintenence.
  Flexibility: freeze dryers are flexible enough to allow easy modification to meet changing needs, and the incorporation of the latest freeze drying technology.
  Range Selection: Not every processor has the same shelf area requirements, so we developed our freeze dryers to cover the gamut, from 0.87 square feet (0.82m2) to a generous 370 square (34.6m2) foot model with a mesh tray drying area.
  Product Drying Chamber: Every product drying chamber is constructed of specially treated type 304 stainless steel, and equipped with easy-to-remove stainless steel product trays to allow complete flexibility in product loading and product height constraints. To prevent unwanted heat transfer from outside the chamber, all models are insulated with closed-cell CFC-free foam. Product drying chambers also feature an easy-opening door with a viewing window to facilitate observation of the drying process.
  Condenser Systems and Capacities: Every general purpose condenser is constructed of type 304 stainless steel and designed for rapid defrost turnaround. Numerous models feature a wide selection of condenser capacities, designed to match your exact processing requirements. A wide range of process condenser temperatures is available through selection of refrigeration systems and CFC-free refrigerants.
  Heat Transfer Systems: General purpose freeze dryers start with a standard direct-expansion chamber temperature control, and extend to a fully programmable, silicone fluid-based heat transfer system that circulates fluid through an internal radiant coil and around the product chamber for even, uniform radiant heating. Such delicate products as botanicals benefit from our programmable heat transfer system, which allows the maximum drying rate and the quickest turn-around time.
  Vacuum Systems: All general purpose freeze dryers are provided with two-stage high capacity pumps designed for rapid pump-down initially or after mid-cycle defrosting. Standard or optional product chamber isolation valves allow you to hold chamber vacuum during defrosting, and facilitate product dryness pressure rise studies.
  Refrigeration Systems: refrigeration systems are designed for long life and ease of service by local refrigeration service companies. All components are selected for world-wide availability. Special processing temperatures are easily handles by our wide range of optional refrigeration systems.
  Controller: User-friendly instrumentation and controls eliminate guesswork and unpleasant surprises. gives you precise control of the drying rate until final completion of you sensitive and valuable end product.